Currently Hiring
For more information about each position, including a position description, please click on the title.
SI Leaders are undergraduate students who provide peer academic support for an assigned course. SI Leaders assist in student learning and retention at Iowa State University through facilitation of SI sessions that help students better understand concepts and applications of course content.
We are still hiring for Fall 2023! At this time, we are accepting applications for the following courses:
A ECL/BIOL 365, ACCT 215 and 285, AN S 214 and 331, C E 274, CHEM 167 and 177, COM S 230, GEOL 201, MATH 145, 151, 165, and 166, PHYS 115,131, and 231, STAT 226 and 326
If you are interested in leading an SI section for one of the courses above, apply here
A tutor provides course-specific academic support to small groups of undergraduate students. Each tutoring group meets at a consistent day and time throughout the semester. Tutors must have taken the course(s) that they want to tutor at Iowa State University and earned a B or higher. Tutors are paid $15/hr. Find out more information about becoming a tutor.
Applications will remain open until positions are filled for Fall 2023.  We are currently seeking tutors for the following courses:
MAT E 273, ME E 345, M E 335, M E 421, E M 324, PHYS 131, PHYS 232, BIOL 211, BIOL 255, BBMB 316, BBMB 404, CHEM 231, CHEM 324, STAT 101, STAT 226, STAT 326, FIN 301, MIS 207, MIS 307, MATH 207, MATH 104, MATH 150, MATH 266, AGRON 181, KIN 355, CPR E 281, CPR E 381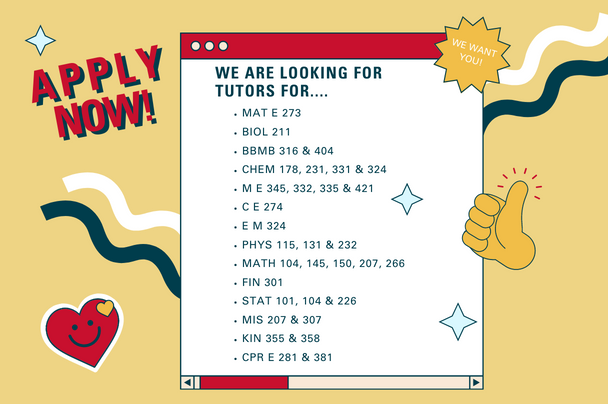 Not Currently Hiring
This paid leadership position in the Iowa State University Academic Success Center (ASC) provides an ISU undergraduate student the opportunity to coordinate and lead efforts in creating and managing brand and marketing for a complex multi-unit organization. The Social Media and Marketing Coordinator will help design and execute marketing plans, manage social media accounts for the ASC, make a cohesive content plan across all social media platforms, and support the ASC in communication efforts with partners and constituents.
Communication Consultants are students from all disciplines who are committed to helping their peers. Communication Consultants offer individualized assistance to students, staff, faculty, and community members across the disciplines working on any form of written, oral, visual, or electronic (WOVE) communication. Communication Consultants help students at all stages of the composition process, from brainstorming and organizing ideas to revising and polishing drafts. Writing and Communication Consultations does not offer editing or proofreading services. Instead, Communication Consultants help students evaluate and improve the effectiveness of their own work. Through assisting others, Communication Consultants gain valuable teaching and teamwork experience, hone their communication skills, and become better writers themselves.
Student Assistants are undergraduate employees who work as front desk staff and office support staff in the Academic Success Center (ASC) for its four main programs: Academic Skills Coaching, Writing and Communication Consultations, Supplemental Instruction, and Tutoring Services.
A Peer Academic Coach is a paid leadership position where undergraduates meet one-on-one with students to mentor and help develop their academic skills. Peer coaches serve as mentors, accountability partners, and experts on academic skills and ASC resources for their student appointments. They will also conduct outreach initiatives for the Academic Success Center in the form of workshops presented to campus partners, classrooms, and student organizations. Learn more by visiting our Academic Skill Coaching and Workshops webpages and watching our Peer Academic Coaching recruitment video.